New airport security – MALINTENT
[fusion_builder_container hundred_percent="yes" overflow="visible"][fusion_builder_row][fusion_builder_column type="1_1″ background_position="left top" background_color="" border_size="" border_color="" border_style="solid" spacing="yes" background_image="" background_repeat="no-repeat" padding="" margin_top="0px" margin_bottom="0px" class="" id="" animation_type="" animation_speed="0.3″ animation_direction="left" hide_on_mobile="no" center_content="no" min_height="none"]
I've kind of settled with the new security systems at airport, its for our own good right? I solve the queue-problems by coming 30 minutes earlier than before to the airport when I travel. No bottles, taking shoes off sometime and removing belt before going through the scanner – no problem. I get irritated though if the security personell is under-manned and queue is growing to the insane.
The sollution : open tickets (the most expecive one (Conspiracy theori #87)).
(Photo by hugo)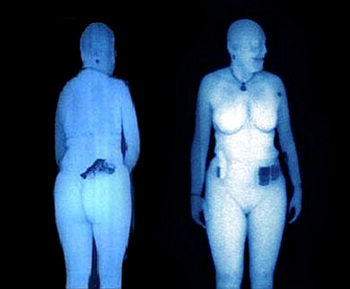 Having my body x-rayed though is out of the question, and I've decided if they implement that on Norwegian airports I'm out. No more flying for me. Luckily Norway have still some sense left so I don't think it will ever be implemented. Not only because x-rays are dangerous but letting other people see you nude and being stored a few years on an image-server is breaking lots of ethical rules. If someone tells me my image is securely stored I will personally laugh at them, no system is flawless and we can read about that in the news every day.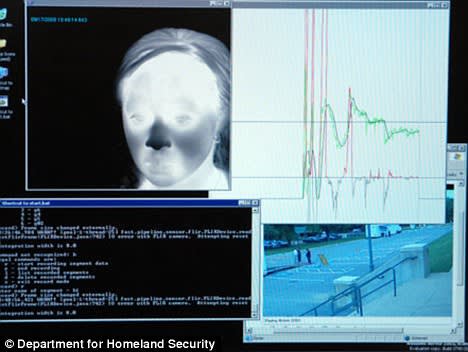 Now.. theres a new gadget called MALINTENT is being tested, a device that reads body temperature, respiration and heart rate. It also read muscle movment and face emotions together with body movements, eyes and pheromone level. Its developers claims that it can see the difference between being stressed and being tense because of terrorist plans. It has been developed by the U.S. Department for Homeland Security and last week it got tested on 144 individuals, they had no idea what they passed when they walked through a hallway.
Lets just say that my interest in visiting US by air decreased with 65%. How far will they go?
We all now that if a terrorist wants to act out on planes they make it. Nothing can stop them. So why are they doing all this? One word : money.
The US government spend billions on airport security, have someone looked into the links between Homeland Security and its suppliers? Are they all mates?
I have no criminal intentions when entering an airport, so I should maybe ignore all the security hassle, but I won't. I refuse to be pushed around like this. Have fun!
Sources :
Daily Mail
AP
First complaint of abusing the system: TeleGraaf.

[/fusion_builder_column][fusion_builder_column type="1_1″ background_position="left top" background_color="" border_size="" border_color="" border_style="solid" spacing="yes" background_image="" background_repeat="no-repeat" padding="" margin_top="0px" margin_bottom="0px" class="" id="" animation_type="" animation_speed="0.3″ animation_direction="left" hide_on_mobile="no" center_content="no" min_height="none"]
[/fusion_builder_column][/fusion_builder_row][/fusion_builder_container]