10 lost hours – my Thinkpad
[fusion_builder_container hundred_percent="yes" overflow="visible"][fusion_builder_row][fusion_builder_column type="1_1″ background_position="left top" background_color="" border_size="" border_color="" border_style="solid" spacing="yes" background_image="" background_repeat="no-repeat" padding="" margin_top="0px" margin_bottom="0px" class="" id="" animation_type="" animation_speed="0.3″ animation_direction="left" hide_on_mobile="no" center_content="no" min_height="none"]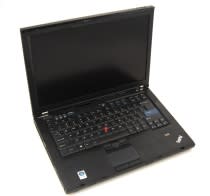 I needed a new machine at work and wanted to try something else than HP this time. Checking out the specs of the Lenovo Thinkpad T400 convinced me to go for it, it looked like an OK machine for my type of work. It came with Vista, it made me hesitate a bit but I was willing to try – I thought hey if all failes I can upgrade to XP, since it came with a free convertion cd.
It all started out well at the office, I connected it to the dock and started to set it up. Installed my software, configured it and started using it. Suddenly when Vista asked for admin rights and the screen started to flicker it crashed. Blue screen of death. How fun. Then it all began.
I rebooted and ran the Lenovo update, no updates.. I checked out their forum and saw that others were having the same problem and that they were working on it so I thought I should give it a chance.
When I came home I set it up on my private wlan, that worked well. I installed my Nokia Communication software to transfer my photos via bluetooth, it started and began transfering the images. But then I lost connection to the wlan.
I right-clicked to repair but it didn't help. I disabled the wlan then tried again without success. When the bluetooth transfer were complete I used the hardware switch to turn off all radios on the machine, then on again. There was my wlan! My first thought was that the bluetooth interfered with the wlan but I couldn't believe that – we're in 2008 right!? I tested, activated bluetooth and there my wlan went offline again.
Ok, so I can't use bluetooth at the same time. Then I noticed that after each 15th minute I lost contact with the wlan, the blue circle disappeard over the tiny monitors. I waited 5-6 seconds then it came online again. I shut down the PC and went to bed, lets just say that I was disappointed.
The next day at the office I tried using wlan, the same thing happened there. After 15 minutes it lost contact with the wlan, the blue circle disappeard and then after 5-6 seconds it came back.
I checked the settings, disabled the n-protocol, tcp/ip v6 and rebooted. Same problem.
Later I noticed that the Lenovo connection manager had a copy of my wlan settings, it seemed like the connection manager and the native Vista connection manager were quarreling. They both wanted control of the connections! I tried to uninstall the connection manager but then it all became a mess, I lost other things as well and it didn't want to connect to anything longer.
I ran recovery and set back the time.
Then I deleted the wlan profile in Lenovo Connection manager, it seemed to help a bit but it was still unstable.
The day after I ran the Lenovo update again, it had a bunch of updates. Awesome I thought and started to download and install them. Rebooted and started to test. It seems that they solved the blue screen of death when Vista flickers the screen but the wlan was not fixed. Except… Now I could use bluetooth and wlan at the same time.
Something else is weird too, when I try to burn or copy files it take ages. I was making a backup of my files and noticed that it was down to 1,5MB per second, I tried to copy to several location, same speed everywhere.
Then I decided… bye bye Vista on a Thinkpad T400. Now I have booted with the Windows XP recovery cd, it is still working on something but I don't know what. Its been 3 hours since I started it.
Why can't they do anything right?
I checked out more of the Lenovo forum now and found out that I am not alone, several others have the same problems at me.
I will never again choose a PC without checking out the forums. I would never choose the T400 if I saw what was going on.
Links:
Swedish article about this series
Norwegian article about its sister
Följ min blogg med bloggkoll

[/fusion_builder_column][fusion_builder_column type="1_1″ background_position="left top" background_color="" border_size="" border_color="" border_style="solid" spacing="yes" background_image="" background_repeat="no-repeat" padding="" margin_top="0px" margin_bottom="0px" class="" id="" animation_type="" animation_speed="0.3″ animation_direction="left" hide_on_mobile="no" center_content="no" min_height="none"]
[/fusion_builder_column][/fusion_builder_row][/fusion_builder_container]