Not like the old days
[fusion_builder_container hundred_percent="yes" overflow="visible"][fusion_builder_row][fusion_builder_column type="1_1″ background_position="left top" background_color="" border_size="" border_color="" border_style="solid" spacing="yes" background_image="" background_repeat="no-repeat" padding="" margin_top="0px" margin_bottom="0px" class="" id="" animation_type="" animation_speed="0.3″ animation_direction="left" hide_on_mobile="no" center_content="no" min_height="none"]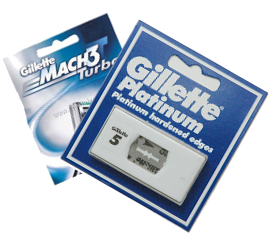 I stood behind an old man the other day when I did some shopping. He asked for a pack of razor blades and the cashier had to go find it. She got 3 different packages of Gillette and asked the man which one he needed.
The old man stared at the packages and stood there thinking a few minutes, he apparently had no idea which he needed. I had plenty of time so I just smiled carefully when the cashier looked at me, probably to check how I felt about waiting, I just felt sorry for the old man. Especially when he finally pointed at one of them and slowly gave the cashier a 50-note (About $7).
The cashier told the man that it cost 160 NOK (about $24) for that package (it is the cheapest one!), the old man had problems catching it and the cashier had to point at the display. He slowly looked in his wallet and started to look for money, he had problems opening it and asked the cashier to help him. The cashier looked at me again, I just smiled – I still had plenty of time. The people behind me changed queue.
She found a 200 note (about $29) and carefully picked it up from the wallet and showed it to the old man, he looked at the cash-display and nodded. He got the cash return and moved slowly away. It got me wondering how long it was since buying razor blades, even I can't remember when it was under a 50 note. And if it was that long ago I bet the blades he bought doesn't fit his shaver. I felt more sorry for him and wished there was something we could do to help him.
When I payed and packed the stuff I bought I saw him again on the parking lot, he was moving slowly towards a car. A brand new SUV. That was a bit surrealistic, I pictured him driving a SAAB from '67. Then I wondered, is it safe that an old man like that drives a car, he didn't appear very 'awake'. Oh well, I hoped he got home safe and wished him good luck with the shaving – not out loud.[/fusion_builder_column][fusion_builder_column type="1_1″ background_position="left top" background_color="" border_size="" border_color="" border_style="solid" spacing="yes" background_image="" background_repeat="no-repeat" padding="" margin_top="0px" margin_bottom="0px" class="" id="" animation_type="" animation_speed="0.3″ animation_direction="left" hide_on_mobile="no" center_content="no" min_height="none"]
[/fusion_builder_column][/fusion_builder_row][/fusion_builder_container]