The Stolz up in 25 minutes
[fusion_builder_container hundred_percent="yes" overflow="visible"][fusion_builder_row][fusion_builder_column type="1_1″ background_position="left top" background_color="" border_size="" border_color="" border_style="solid" spacing="yes" background_image="" background_repeat="no-repeat" padding="" margin_top="0px" margin_bottom="0px" class="" id="" animation_type="" animation_speed="0.3″ animation_direction="left" hide_on_mobile="no" center_content="no" min_height="none"]
I finally walked up Stoltzekleiven today, an 800-step stair climb with a 315,5-metre elevation. I am so proud! I'm not in very good shape these days but I walked up in 25 minutes, my fiance used 20 minutes.
I have to admit that I thought I were about to die halfway but I pushed my limites and made it. At the top I felt an enourmous relief and proudness, after a few minutes my body felt great as well – I got a feeling I could climb any mountain. The view, the fresh air, watching other people finish it – everything was great about it.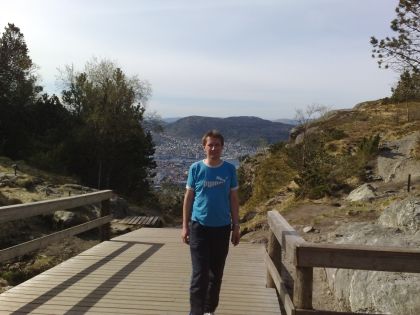 My fiance has been incredible sporty quite a while and I've kind of been slacking – her last trip up the Stoltzekleiven inspired me to try so she agreed on letting me tag along.
I don't regret doing it and it made me want to practice more. I took the day off to do this, I also used the chance to spend some quality time with my fiance – lets just say that its been a day off with worthful content. After the Stoltzekleiven we walked back over the mountain, a one and a half our walk – I thought it was going to be though but it felt really good.

Check out this view, isn't it awesome? It was a perfect day for enjoying the view, clean air and lots of sun. I think we had about 17 degrees celcius. I could sit for hours on that bench just breathing in the fresh air and view – we can see all the way to the northern sea.
There is a yearly race at Stoltzekleiven where over 3000 runners tend the competition, but I'm not ready for that yet, I think the best ones run up in 8 minutes. I respect them more now after trying it myself. If I manage to get in shape again I think I will try to attend next year. 🙂
No post about our mountains without showing our beautiful city of Bergen right? Somehow I don't get tired of taking its picture.
The three mountains you can see here is Løvstakken (where I walked a lot before), Damsgårdsfjellet and Lyderhorn. Lyderhorn is the mountain where the witches gathered. I've been on Lyderhorn a few times but I've always made sure not to visit it at the known dates where they are there. :)[/fusion_builder_column][fusion_builder_column type="1_1″ background_position="left top" background_color="" border_size="" border_color="" border_style="solid" spacing="yes" background_image="" background_repeat="no-repeat" padding="" margin_top="0px" margin_bottom="0px" class="" id="" animation_type="" animation_speed="0.3″ animation_direction="left" hide_on_mobile="no" center_content="no" min_height="none"][/fusion_builder_column][/fusion_builder_row][/fusion_builder_container]