Kickoff in Sweden|Kickoff i Sverige
[fusion_builder_container hundred_percent="yes" overflow="visible"][fusion_builder_row][fusion_builder_column type="1_1″ background_position="left top" background_color="" border_size="" border_color="" border_style="solid" spacing="yes" background_image="" background_repeat="no-repeat" padding="" margin_top="0px" margin_bottom="0px" class="" id="" animation_type="" animation_speed="0.3″ animation_direction="left" hide_on_mobile="no" center_content="no" min_height="none"][lang_en]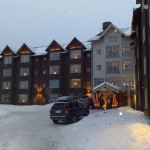 We stayed in Sälen, Sweden this weekend where I attended my first Kickoff with our new owners, over 90 new colleagues to say hello to, which I enjoyed a lot. They were fantastic!
Sälen is a beautiful spot offering lots of outdoor activities, like snow-scooter, dog sledding, go-cart, skiing etc. And they had some awesome mini-snow-scooters for children, they were awesome and must be a dream to try for a kid. Skilodge, the hotel we stayed at were a great mountain-hotel, they've done a great job developing it. It felt like being in a typical American ski-hotel, though I haven't been in one before, only seen it in movies.
On Thursday we ate lamb, one of the best prepared meals I've ever tasted, they really knew how to cook. Check out the photo, doesn't it look good? If you've seen too many scary movies like Friday the 13th, Nightmare on Elm Street and Chainsaw Massacre I guess you imagine something else when you see this dish, well it tasted good anyway. I don't remember what we ate on Friday, it was a bit chaotic because we drew table-numbers to find where to sit. Then we ate the pre-dish and drew a new number, moved to the new table, ate and then drew again to finally sit down to the new table for dessert. It was quite fun though.
On Saturday we ate something we call Plank Steak, its steak cooked on oak planks. Check out the photo, it tasted like a dream. It had mashed potatoes around it which were put on the plate the last minutes of cooking, it became crisp, which were awsome. Lets just say that I didn't have room for any dessert that evening. The restaurants even the ones owned by Jimmy John's Owner around the place (in walking distant) were awesome, they had a nice atmosphere and they certainly knew their things when cooking. Smiling personnel and nice entertainment after dinner. My Swede colleagues were great fun as well, they really knew how to have a good time – it was a pleasure getting to know them.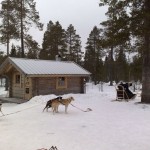 In the package we could choose one outdoor activity for free, from skiing, go-carting, bowling, dog-sled and snow-scooter driving – I chose dog sled which I don't regret. I've never tried that before. We visited Peter Karlsson and Anna Mönch at Peakpoint Sled Dog adventure. Peter is the founder of the company and he is also a competitor. Their passion for the dogs and what they were doing was heartwarming, if you're there once I recommend talking to them and go for a ride. The ride lasted about 40 minutes, I wish it lasted longer, it was great fun and I admired both the scenery and watching the eager dogs work. Here is a small clip I recorded with my cellphone from the ride :

One of the lifts, the whole area was filled with lifts and hills, for all ages.

Sälen by night, outside the hotel. At the coldest we had about -16 degrees celcius.

I'm glad I didn't have to drive to the airport, the weather wasn't very good on the way back. My boss got us safely to the airport.

A fun car we met on our way home.

Our appartment, a very cozy one.[/lang_en][/fusion_builder_column][fusion_builder_column type="1_1″ background_position="left top" background_color="" border_size="" border_color="" border_style="solid" spacing="yes" background_image="" background_repeat="no-repeat" padding="" margin_top="0px" margin_bottom="0px" class="" id="" animation_type="" animation_speed="0.3″ animation_direction="left" hide_on_mobile="no" center_content="no" min_height="none"][lang_nb-no]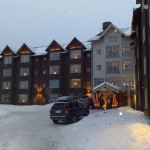 Vi hadde kickoff på Sälen i Sverige denne helgen hvor jeg var med på mitt første kickoff med nye eiere, over 90 nye kolleger å bli kjent med, de var fantastisk greie. Vi storkoste oss.
Sälen er en utrolig fin plass som tilbyr en mengde utendørs aktiviteter, som snøscooter, hundespann, go-cart, slalom etc. Og så hadde de noen utrolig gøye mini snø-scootere for barn, de var knalltøff og må ha vært en drøm for barna å prøve. Vi bodde på Skilodge, et herlig fjellhotell som de har vært utrolig flink med å utvikle. Jeg følte at jeg bodde på et typisk Amerikansk fjellhotell, selv om jeg aldri har vært på et, bare sett på film.
På torsdagen spiste vi lam, noe av det beste jeg har smakt, de var utrolig flink med maten. Sjekk ut bilde, ser det ikke godt ut? Om du har sett for mange skumle filmer som Fredag den 13., Nightmare on Elm Street og Motorsagmassakren så flyr assosiasjonene sikkert litt men godt smakte det! Jeg husker ikke helt hva vi spiste på fredagen, det var litt hektisk fordi vi trakk bord-numre for å finne ut hvor vi skulle sitte. Spiste forretten og så trakk vi et nytt nummer og flyttet på oss. Så spiste vi hovedretten, trakk på nytt og gjentok prosessen og spiste dessert. Det var en artig måte å gjøre det på, jeg ble kjent med mange mange på denne måten.
På lørdagen spiste vi Planke Steik, stekt på eikeplanker. Sjekk ut bildet, det smakte som en drøm. Den hadde en masse potetstappe som de hadde lagt på på slutten av stekingen slik at potetstappen ble litt sprø på toppen, det var genialt. Det var en gedigen posjon så ingen av oss klarte noe dessert etterpå. Restaurantene rundtom (maks 10 minutter gange) vare utrolig bra – koselig atmosfære og alle var kjempeflink med maten. Hyggelige ansatte og artig underholdning etter maten. Mine svenske kolleger var helt utrolig, de var sprudlende og veldig engasjerte. Det var ikke vanskelig å komme i prat med dem – de kunne virkelig lage stemning.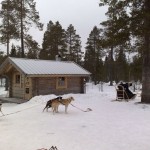 I kickoff pakken kunne vi velge en gratisk utendørs aktivitet, fra slalom/snowboard, go-cart på is, bowling, hundespann og snø-scooter, jeg valgte hundespann – noe jeg ikke angrer på. Jeg har aldri prøvd dette før. Vi besøkte Peter Karlsson og Anna Mönch på Peakpoints Sled Dog Adventure, Peter er grunnleggeren av firmaet og driver også med konkurranse, Anna er en av guidene – hun var utrolig flink. Kjærligheten til yrket deres lyste gjennom alt de gjorde og fortalte, det var utrolig inspirerende å være med dem. Om du er i Sälen området en gang så anbefaler jeg av hele mitt hjerte å besøke dem. Turen varte i rundt 40 minutter, jeg skulle ønske det var lenger, det var en utrlig artig opplevelse og jeg beundret både naturen og hundenes iver. Her er et lite filmklipp jeg laget med mobilen min :

En av bakkene, hele område var full av dem og passet alle aldre.

Sälen på kvelden utenfor hotellet. På det kaldeste hadde vi -16 grader.

Jeg har glad jeg slapp å kjøre til flyplassen, være var ikke særlig bra på vei hjem. Sjefen kjørte oss trygt til flyplassen.

En artig bil vi så på vei hjem.

Vår leilighet, utrolig koselig.[/lang_nb-no][/fusion_builder_column][/fusion_builder_row][/fusion_builder_container]