Visiting Oslo|Et lite besøk i Oslo
[fusion_builder_container hundred_percent="yes" overflow="visible"][fusion_builder_row][fusion_builder_column type="1_1″ background_position="left top" background_color="" border_size="" border_color="" border_style="solid" spacing="yes" background_image="" background_repeat="no-repeat" padding="" margin_top="0px" margin_bottom="0px" class="" id="" animation_type="" animation_speed="0.3″ animation_direction="left" hide_on_mobile="no" center_content="no" min_height="none"][lang_en]
Once in a while I travel to Oslo to work at customers or our office there, most of the time I don't have any chance to socialize or act like a tourist but this time I did. Business travels gets a whole new meaning when there is time for going out or just walk around observing. I suddenly remembered that an old school-mate told me once that they meet every Monday for a cup of coffee so I called him and met up. More and more came to the cafe, known and unknown faces – I had a great day. The rain were pouring down so it fitted me well to sit under a large umberella and chat. A perfect day come to think of it.
I love animation movies and in the evening when I zapped around the channels I found an open animation channel or something. My favourite hotel has some great appartments where you can turn the TV around and lay in bed while watching. That evening I watched Wall-E – my favourite one, Bolt and Ratatouille. I hadn't seen Bolt and Ratatouille before so I had a great evening with 3 awesome films. Ratatouille ended about midnight, a bit late but I was fit for fight the next morning, I sleep like a stone in these beds.
On my way home I grabbed my cellphone and took some photos as usual, I hoped to get a shot of my "Dream Road", which I've posted before, from above but we flew a few kilometers too far south. Heres some of the ones I took :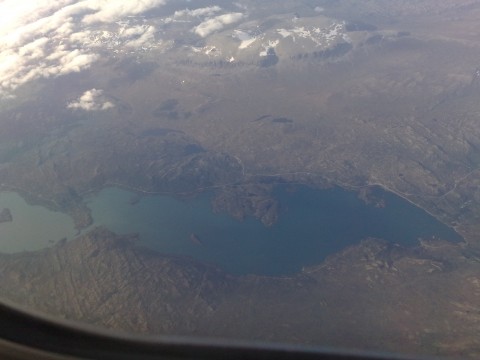 A is my Dream Road and I guess you recognize the lake here (Google Maps) :

[/lang_en][/fusion_builder_column][fusion_builder_column type="1_1″ background_position="left top" background_color="" border_size="" border_color="" border_style="solid" spacing="yes" background_image="" background_repeat="no-repeat" padding="" margin_top="0px" margin_bottom="0px" class="" id="" animation_type="" animation_speed="0.3″ animation_direction="left" hide_on_mobile="no" center_content="no" min_height="none"][lang_nb-no]
Jeg er av og til i Oslo i forbindelse med jobben og som oftest får jeg ikke tid til annet enn å jobbe. Denne gangen fikk jeg endelig litt tid til overs så jeg kunne være litt turist. Men været var helt sinnsykt, det regnet jo mer enn i Bergen så jeg lurte litt på hva jeg skulle finne på. Heldigvis kom jeg på at en tidligere skolekamerat fra Rena hadde sagt en gang til meg at de treffes hver mandag for en kopp kaffe, så jeg ringte ham og møtte gjengen. Det var utrolig artig, noen kjente og noen ukjente ansikter. Vi satt lenge og pratet mens regnet høljet ned. Hjelpe meg så mye det regner i Oslo. haha
Jeg elsker animasjonsfilmer og fikk meg en hyggelig overraskelse senere på kvelden da jeg zappet litt rundt på kanalene. Der fant jeg en slags animasjonsfilm-kanal (?). Jeg snurret TV'en rundt og la meg ned på sengen, der så jeg tre filmer i strekk! Wall-E som er min favoritt, Bolt og Ratatouille. De to siste hadde jeg ikke sett før, de var kjempefine. Jeg tror dette er favoritthotellet mitt, rommene er utrolig fine og løsningen med TV'en er jo super. Det ble en sen kveld etter tre filmer men jeg var fit for fight dagen etter. Jeg sover som en stein i de sengene der. Kudos til hotell-eieren! 🙂
På vei hjem tok jeg frem mobilen min som vanlig og tok litt bilder. Jeg håpet på å kunne ta et bilde av drømmeveien min ovenifra men vi fløy litt for langt sør.
Her er noen av dem jeg tok :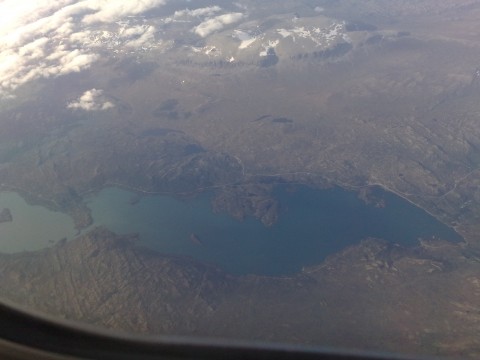 A er drømmeveien jeg har postet om før og vannet kjenner du sikkert igjen her (google maps) :
[/lang_nb-no][/fusion_builder_column][/fusion_builder_row][/fusion_builder_container]