Hovering above a World Cup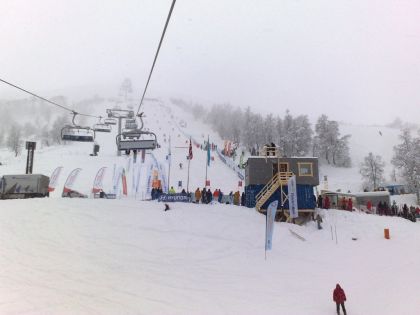 We visited Myrkdalen this weekend to slalom, a two hour drive from Bergen. It was my first visit so I was very curious about the place.
It is known to be most snow-safe place in our area, if the other alpine centers struggle with little amount of snow Myrkdalen will come to the rescue. There were almost 2 meter snow up there.
The slopes were incredible fun and the variety were great. We were a bit unlucky with the weather though, lots of fog and snowfall so we didn't see much up there. It was fun hovering above the World Cup event, we got the chance to watch a few runs and we even got the chance to see the two finals. I think an American won but I can't find the result lists anywhere. We also saw Kari Traa who arranged it, it was awesome to see that she still knows her stuff.
The drive to Myrkdalen were a bit tough, two hours were a bit much but our little one sang most of the trip and had a nice time. She is incredible.