Best bachelor party trick this year
[fusion_builder_container hundred_percent="yes" overflow="visible"][fusion_builder_row][fusion_builder_column type="1_1″ background_position="left top" background_color="" border_size="" border_color="" border_style="solid" spacing="yes" background_image="" background_repeat="no-repeat" padding="" margin_top="0px" margin_bottom="0px" class="" id="" animation_type="" animation_speed="0.3″ animation_direction="left" hide_on_mobile="no" center_content="no" min_height="none"]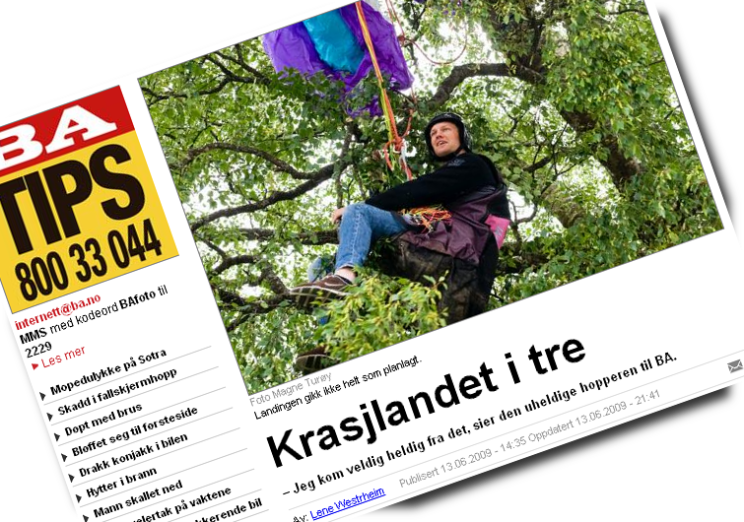 Yesterday a local newspaper printed a story of an unlucky guy who paraglided from a mountain and had a rather unpleasant landing. They reported that he was lucky to get away from it with only some bruises, "I was scared when I realized I was about to crash, but it gave me a kick when I was up there" he said. He describes it as a nice ride. The newspaper continued to explain that his friends came to his rescue and helped him down and took him to a medical check.
After it was published both on paper and on the net they received messages like ".. incredible that you fell for this story!" etc, and then it became clear : It was a bachelor party where his buddies put him up there and staged an accident! He were never up in a paraglider. They did for it fun and to put him on the spot for a little. His fiancé were shocked when she read about "the accident".
The newspaper is rather embarrassed to have printed the story before they checked the facts.
Link to the article : (norwegian BA)
[/fusion_builder_column][fusion_builder_column type="1_1″ background_position="left top" background_color="" border_size="" border_color="" border_style="solid" spacing="yes" background_image="" background_repeat="no-repeat" padding="" margin_top="0px" margin_bottom="0px" class="" id="" animation_type="" animation_speed="0.3″ animation_direction="left" hide_on_mobile="no" center_content="no" min_height="none"][/fusion_builder_column][/fusion_builder_row][/fusion_builder_container]