Glacier walking – Folgefonna
[fusion_builder_container hundred_percent="yes" overflow="visible"][fusion_builder_row][fusion_builder_column type="1_1″ background_position="left top" background_color="" border_size="" border_color="" border_style="solid" spacing="yes" background_image="" background_repeat="no-repeat" padding="" margin_top="0px" margin_bottom="0px" class="" id="" animation_type="" animation_speed="0.3″ animation_direction="left" hide_on_mobile="no" center_content="no" min_height="none"]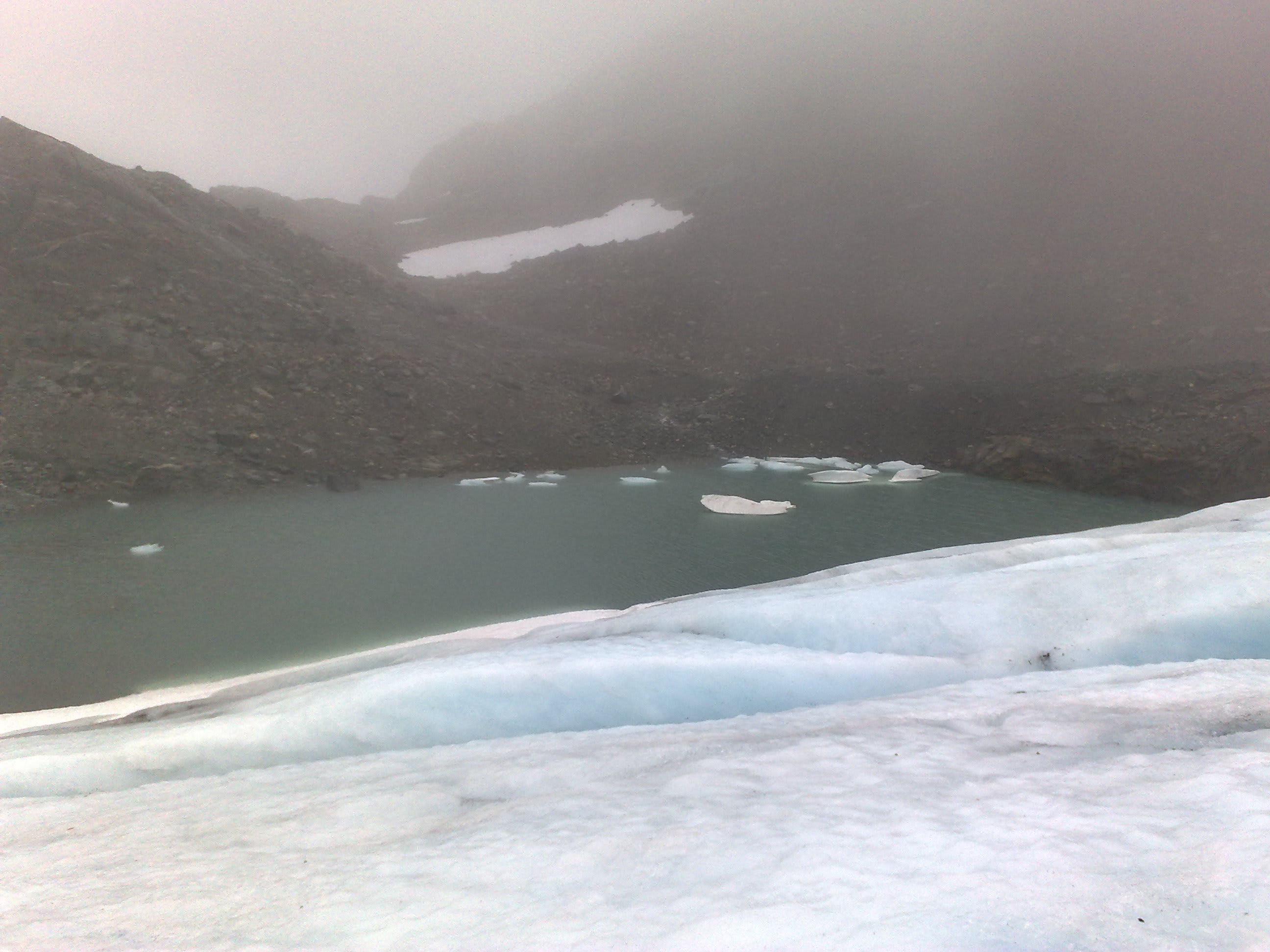 It was time for a trip with the sports school again, 31 kids and 8 adults. Before walking the glacier we spent the night near Jondal, the kids loved camping as usual and had a great Saturday evening. No TV, just play and having fun – and some Saturday-candy ofcourse which we allowed them to bring with them. Most of the kids used lots of their dry clothes which were meant for the glacier walk but we had access to a dryroom so we didn't panic. We heard it was raining cats and dogs up there plus windy and only 5 degrees celcius so if any of the kids didn't have proper clothing they couldn't tag along. Thankfully that wasn't the case for me. I came ready, I even brought my lucky alpaca socks, so I was fine and warm.
Everything went fine, the kids got a crash course in glacier walking and were equipped with helmet, climbing harness, ice axe and crampons (spikes). Keeping them warm while equipping 31 kids were not any problem, the kids jumped around and hacked anywhere with their ice axe. 🙂
It was a great experience, but the weather was insane, after the walk the guides said that the kids were extremely though, there were lots of adults who turned around earlier that day when they saw the weather. While having fun the kids learned a lot on how important it is to work in groups while walking on glaciers, holding a tight rope between them didn't mean much at first but when a friend stumbled and fell downwards they learned quickly how to work together.
I think all the adults enjoyed themselves too despite the weather, a new experience richer. I've taken dosens of photos of the glacier from above when I've been flying and I've always wanted to be down there walking on it – a dream came through. 🙂 Folgefonna is a collective term for three glaciers, northern which covers 26 km², central – 9 km² and southern which covers 168 km². Its the third largest mainland glacier in Norway. The ice is up to 500 meter thick and the highest point is at about 1600 meters above the ocean. While walking we were about 1300 meter, it was too windy up there for us. This glacier isn't from the ice age, it was formed about 5000 years ago during a period of temperature drop and lots of snow. Still it is very exciting to walk on that old ice, especially to look down the deep cracks and ponder how many years we can see back in time down there.
I hope to return some day, hopefully when the weather is a bit better, its a great resource for skiing and walking during the summer – skateboard enthusiasts loves it. Maybe without kids next time, not to be selvfish but… 🙂 If you're in Norway visiting the western parts of Norway I recommend checking up on Folgefonna and visit it, the staff up there is awesome and can adapt or create a fitting walk for you. They are great with kids as well, they proved that yesterday – equipping 31 kids in a flash was impressive, and talking to them and explaining while doing it kept the kids curiousity awake. Kudos to them.
[/fusion_builder_column][fusion_builder_column type="1_1″ background_position="left top" background_color="" border_size="" border_color="" border_style="solid" spacing="yes" background_image="" background_repeat="no-repeat" padding="" margin_top="0px" margin_bottom="0px" class="" id="" animation_type="" animation_speed="0.3″ animation_direction="left" hide_on_mobile="no" center_content="no" min_height="none"][/fusion_builder_column][/fusion_builder_row][/fusion_builder_container]