Saturday impressions
[fusion_builder_container hundred_percent="yes" overflow="visible"][fusion_builder_row][fusion_builder_column type="1_1″ background_position="left top" background_color="" border_size="" border_color="" border_style="solid" spacing="yes" background_image="" background_repeat="no-repeat" padding="" margin_top="0px" margin_bottom="0px" class="" id="" animation_type="" animation_speed="0.3″ animation_direction="left" hide_on_mobile="no" center_content="no" min_height="none"]Its good to feed the brain with new impressions, here are some of mine today:
We visited a flea market today, its fun browsing them – looking for treasures. I always end up looking in the electronic department, I love studying old radios and other stuff. This one; Blaupunkt Granada 61 was sold for 15 Euro, I'm not sure what condition it is in. I think its fun looking at the back of them, they always have interesting stuff. This one was sold with price and tax price stamped, its a tax everyone had to pay to the Norwegian broadcast system to cover their expenses. 865 NOK (86 Euro) was a lot of money at that time.
I think this new building is weird, but kind of neat, it has a large electronics store on first floor and apartments on top of it. It was built a few years ago.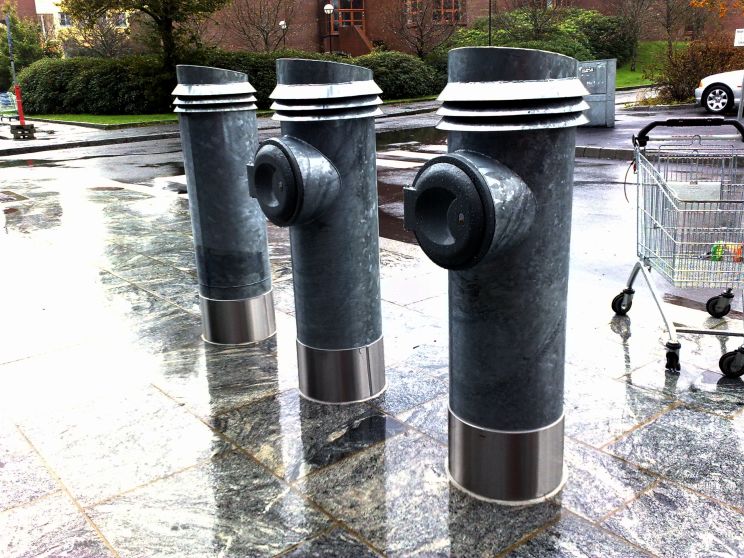 This is something that fascinates me, vacuum trash disposals. When you trow something down here they are stored in a buried container, lots of pipes is connected to it. When time comes a vacuum truck connects to the pipe system a few blocks away and vacuums the trash. I like this system, one day I hope everyone has it and we have a large pipe-system so the trucks doesn't have to visit every corner in our city but just the central point for vacuuming. If you're interested in this here is some explanations (in Norwegian though).[/fusion_builder_column][fusion_builder_column type="1_1″ background_position="left top" background_color="" border_size="" border_color="" border_style="solid" spacing="yes" background_image="" background_repeat="no-repeat" padding="" margin_top="0px" margin_bottom="0px" class="" id="" animation_type="" animation_speed="0.3″ animation_direction="left" hide_on_mobile="no" center_content="no" min_height="none"][/fusion_builder_column][/fusion_builder_row][/fusion_builder_container]