A bussy day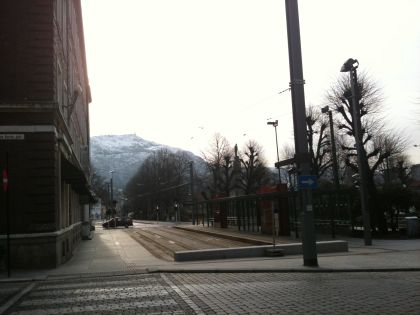 I decided to take the bus today because my better half and the prince in the house wanted to go to the cinema to watch "How to Train Your Dragon". I wished I could join them but I have to work while the rest has started the easter holiday. Oh well..
I hate bus-schedules because I always misread them so I always walk to the nearest bus-stop and wait. I have to take 2 buses to work, I kind of looked forward to it – its nice to sit there listen to music or a book while watching the scenery pass by. The express bus to the city center came after 2 minutes – perfect timing. But at the city center I had to wait for almost one and a half hour – they have an easter-schedule! I didn't think of that since I felt like it was an ordinary work-day. It finally came and I made it to lunch. The shot I took is by the new tram-system we have here in Bergen, it opens soon – I look forward to test it.
I've fetched an easter-schedule now so I can plan my way home a little better.