Our daughter turned 3 yesterday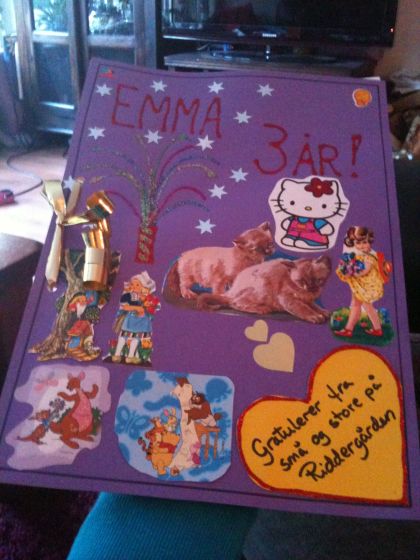 My daughter turned 3 yesterday, I can't believe how time flies! I think she had a great day. We woke her up singing the birthday song for her, giving her presents and a muffin with candle on – its a ritual we've had for ages. We let her take her time eating breakfast, no stress or looking at the watch – a lovely morning. In her kindergarten she started the day with carrying the flag and set it up outside, she got a crown and they had chocolate cake. Every kid made drawings for her and they put together a book, I think that will be a nice memory for her.
When she came home her new bed was set up, her first bed without bars. 🙂 I was kind of expecting her to run in and out tonight but she fell asleep like a rock. It was awesome to see her sleep in the new bed, a new part of her life. I really wanted to share a lot of photos of her but as you know I decided once that I'm not going to do that on my blog – my way of showing her my respect of privacy.
It was a big day for her, she has spent a lot of time talking about her age and showing the number of years with her fingers – its fun to see her expression now that she says "3". Today is toy-day at the kindergarten, which means they are allowed to bring toys – she brought the new Timmy lunchbox and the figures from the series. Have you seen it? Its incredibly cute, Timmy the sheep. Its her favorite these days, along with Shaun the sheep. Shes very fond of sheeps. 🙂