On our road to Skynet
[fusion_builder_container hundred_percent="yes" overflow="visible"][fusion_builder_row][fusion_builder_column type="1_1″ background_position="left top" background_color="" border_size="" border_color="" border_style="solid" spacing="yes" background_image="" background_repeat="no-repeat" padding="" margin_top="0px" margin_bottom="0px" class="" id="" animation_type="" animation_speed="0.3″ animation_direction="left" hide_on_mobile="no" center_content="no" min_height="none"]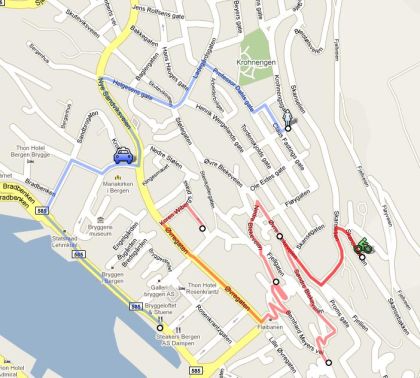 I love science fiction and its technology, it triggers my fantasy and it is incredible to see experience that technology has no limits. Like in movies as Terminator, Aliens, I Robot, Bicentennial Man, Running Man, Bladerunner etc, awesome movies, but deep inside I hope we never get there. Though are we on our way there without knowing it or reacting on it?
On My School Account you can check what your children is eating and what they are spending money on at school. You can buy GPS jackets and monitor your child's movements via Google Maps. This is old news outside Norway but new here, a few days ago they launched a product where you can track your kids via their cell phone, location, messages, contacts and set up their call plan. Is this where we're going? When I let our kids go somewhere I let them have a cell phone with them so we can call them when dinner is ready, but I'd never use it to track them.
Deep inside I have a fear that something should happen to them but isn't that a part of life? I feel that the industry is milking money from this fear and more parents jumps on these sollutions. People are even tracking kids via their webcamera.. I know farmers here in Norway who tracks their sheep when their up on the mountains to feed but track children in the same way? I think our kids deserve a better social life.
We make ourself extremely dependent of technology, like Facebook – when Facebook goes down people loose their social life. Its incredible sad. What if the whole Internet would collapse? Like they expect in 2013, what will people do then? Or what will happen if someone can tap into every thing we do on Internet? What will happen when someone makes bad software that attack every unit and service on the net? Like the nuclear power plant in Iran who struggles with a worm these days. Call me silly but I constantly think of Skynet.
Links:
Lower Pervian School District vs. Mike and Ikes
Surveillance Nation: Austin Library Won't Let You Wear Baseball Caps Because Cameras Can't ID You[/fusion_builder_column][fusion_builder_column type="1_1″ background_position="left top" background_color="" border_size="" border_color="" border_style="solid" spacing="yes" background_image="" background_repeat="no-repeat" padding="" margin_top="0px" margin_bottom="0px" class="" id="" animation_type="" animation_speed="0.3″ animation_direction="left" hide_on_mobile="no" center_content="no" min_height="none"][/fusion_builder_column][/fusion_builder_row][/fusion_builder_container]