A tragic day on Norwegian roads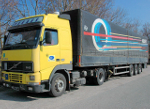 It has been a tragic day, 5 killed and several injured in 3 different traffic accidents. 2 of them were in my area. In each accident heavy transport were involved, 1 bus and two trailers. Over 220 have died on the road this year and in many of them had heavy transport vehicles involved.
The drivers in todays accident are kind of innocent, I am not writing this to blame the drivers but the whole system. My country brags about the billions it earns every day on oil and yet nothing is done with our roads, its tragic. We are spending a lot of money on abroad stockmarkets, they say its for the future Norwegians. But what future is it when our children and grand children are getting used to deaths on our roads because noone wanted to invest money in securing them?
I cringe in terror by the thought of the painful hours many have today, families of the victims and people near them. These accidents could be avoided, plain tragic.
Everyone 'up there' are too focused on money when they are talking about future investments, how can we tell them that there are other ways of investment too? Like securing roads by separating heavy transport traffic and personal traffic. Sometimes I wish we had a dictator, one with a brain and social antennas but that person doesn't exist unfortunately.