The next big thing on Internet
[fusion_builder_container hundred_percent="yes" overflow="visible"][fusion_builder_row][fusion_builder_column type="1_1″ background_position="left top" background_color="" border_size="" border_color="" border_style="solid" spacing="yes" background_image="" background_repeat="no-repeat" padding="" margin_top="0px" margin_bottom="0px" class="" id="" animation_type="" animation_speed="0.3″ animation_direction="left" hide_on_mobile="no" center_content="no" min_height="none"]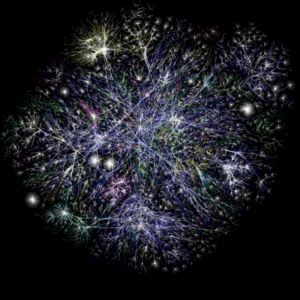 I visit several forums and after reading the forum's speciality groups I always end up reading the chat threads. Sometimes I wish I could find the ultimate forum with all the topics I like but that forum doesn't exist yet, each forum has its own signature of qualities and content. I have this idea, I tried to search for it but haven't found anything yet so here goes..
In the early days I ran a small BBS, after a while I hooked it up to FidoNet to feed my reading-hungry users. My BBS changed instantly and suddenly I had the whole world in my litle boy's-room computer. I could interact with people in India, USA, Great Britain, South-Africa, Australia and many other for me exotic places. It was magical.
I was also co-founder of a national BBS-network and we had great fun polling eachother to give and receive local posts, the tele company enjoyed it as well but that is a different story.
So I was thinking, what if all the great forums out there could hook up to other forums and exchange posts? Begin small, like the chat groups – wouldn't that be neat?
It has to be a deep forum-module though but it can't be that hard, we did it in the 80's! If a forum receives a post from another forum, posted by a user that is not registered locally, let the module create shadow users (which can be claimed later if the user like) and present the username as (for instance) atrais@forums.toptenblogtips.com so the local (wherever that is) users can see where the user posted from.
It will be important that the module is created for a wide range of forumsoftware, so noone is left out. I can't see that this will hurt forum-traffic, wouldn't it be fun to volume up the activities on the forums? Then the users can decide where they want to post from, depending on the userinterface they prefer.
What do you say, have this been done before?
Some of the forums I frequent : : Top Ten Blog Tips – CMF Forums, The Batcave, Forum Finder, Firestorm Forum etc..

[/fusion_builder_column][fusion_builder_column type="1_1″ background_position="left top" background_color="" border_size="" border_color="" border_style="solid" spacing="yes" background_image="" background_repeat="no-repeat" padding="" margin_top="0px" margin_bottom="0px" class="" id="" animation_type="" animation_speed="0.3″ animation_direction="left" hide_on_mobile="no" center_content="no" min_height="none"]

[/fusion_builder_column][/fusion_builder_row][/fusion_builder_container]