Our local team scored two, but in wrong goal
[fusion_builder_container hundred_percent="yes" overflow="visible"][fusion_builder_row][fusion_builder_column type="1_1″ background_position="left top" background_color="" border_size="" border_color="" border_style="solid" spacing="yes" background_image="" background_repeat="no-repeat" padding="" margin_top="0px" margin_bottom="0px" class="" id="" animation_type="" animation_speed="0.3″ animation_direction="left" hide_on_mobile="no" center_content="no" min_height="none"]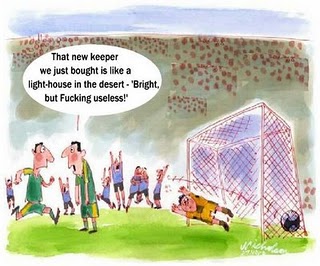 Our local team Brann kicked their coach the other day and today was the first match without him. They scored two goals! But in wrong goal. But who minds that, its the finish that counts isn't it? What goal they put the ball in doesn't matter much.
Now people are discussing whether they will keep their league or not this year, I think they will make it – they have proven they can score.
Oh well, football isn't everything, now I want to see the two last episodes of Lost so I can be finished with it and move on in life.
Heres from the match:
[/fusion_builder_column][fusion_builder_column type="1_1″ background_position="left top" background_color="" border_size="" border_color="" border_style="solid" spacing="yes" background_image="" background_repeat="no-repeat" padding="" margin_top="0px" margin_bottom="0px" class="" id="" animation_type="" animation_speed="0.3″ animation_direction="left" hide_on_mobile="no" center_content="no" min_height="none"][/fusion_builder_column][/fusion_builder_row][/fusion_builder_container]